Dr. Virinder Kasbia, Chiropractor
Get Out of Pain and Back to Activity Fast
It's frustrating when back and joint pain disrupt the life you love. I've been there. Helping people get their lives back from pain and injury is my passion".
About Dr. Virinder Kasbia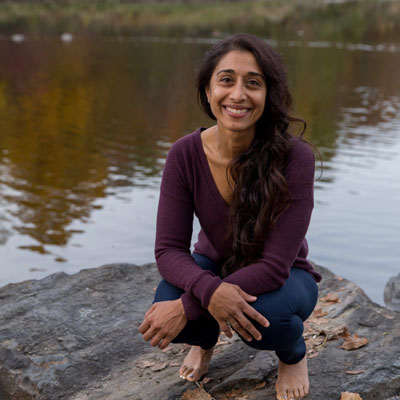 Dr. Kasbia was born in England and immigrated to Canada at an early age. She grew up in Kanata, where she enjoyed numerous competitive sports including tennis, soccer, badminton and played provincial field hockey. Her love of sport and the magnificence of the human body and how it functions inspired her to want to become a medical doctor from an early age. It wasn't until she suffered from a chronic shoulder injury and tennis elbow that she "accidentally" discovered the chiropractor's office. She often chuckles that she "took a wrong turn in the right direction!"
Fascinated by sports, biomechanics and how the musculoskeletal system works, Dr. Kasbia completed her degree in Human Kinetics at the University of Ottawa and went on to attend the renowned National College of Chiropractic in Chicago, Illinois.
Having been in a car accident, hence becoming sedentary, gaining over 60 pounds and having to rehabilitate her spine, led her to an even greater understanding of injury and recovery. Her goals are to "get you out of pain, and back to the life you love through proper nutrition, chiropractic care and exercise therapy"
As a Chiropractor for over 20 years she has helped thousands of people overcome injury and adopt a healthy and active lifestyle. Her love of the spine, biomechanics and mobility recently led her to the study of yoga as a way to keep fit, stay youthful and have fun. She focuses on helping patients and students develop a mindful practice that embraces the importance of a healthy, mobile spine for longevity and wellbeing.
Whether it's wanting to get out of injury, keep your body in optimal shape, or perform better in your sport through chiropractic care, yoga, and exercise therapy, Dr. Kasbia would be happy to uniquely assist you with your individual goals.
Dr. Kasbia has opened her schedule for new clients as well as previous clients of Dr. Marc St-Denis'. Please contact us today to book an appointment at 613-260-8828. Or follow this link to book online! 
Make Dr. Kasbia a part of your health care team and Discover Chiropractic today!
---
Dr. Virinder Kasbia | (613) 260-8828