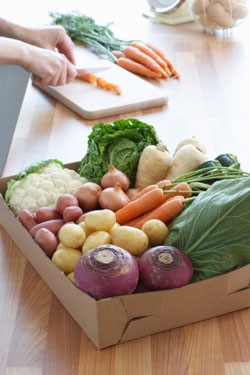 HealthFirst Natural Nutrition in South Ottawa
As a Registered Holistic Nutritionist, Genevieve believes that health is more than just eating well, it's a total state of emotional, mental, physical and social well-being.
In our society, stress and poor dietary habits are some of the underlying causes in the progression of chronic disease and illness. This can not only affect productivity in the work place, but can also lead to more serious health conditions in the future if not addressed properly.
Did you know?
Employees with an unhealthy diet were 66% more likely to report having experienced a loss in productivity. In a separate study, 43% of Canadian employees reported feeling stressed or anxious several times a week due to family obligations and health conditions.
Stress has also shown to substantially decrease digestive function, leading to poor protein metabolism, compromised intestinal health and lack of absorption of vital minerals and vitamins.
The Program
HealthFirst offers corporate wellness programs that provide nutritional education to your employees through seminars and workshops.
As a Natural Nutrition Clinical Practitioner, Genevieve focuses on addressing the underlying causes of common health concerns, such as chronic fatigue, digestive dysfunction, food sensitivities, seasonal allergies and many more. She has also developed dietary workshops to educate your employees on healthy eating, meal preparation, and time management.
We also offer on-site blood draws for assessing food sensitivities and gluten intolerance. Laboratory results are available within 14 business days.
Topics Of Interest:
Weight Management & Hormonal Imbalances
Stress factors and nutrition- Is your digestion being affected?
Food & Gluten sensitivities
Digestive health
Fatigue and lack of energy- Blood sugar stability and maintenance of energy throughout the day
Sleeping habits and dietary aids
Vegetarian meals with recipes and tips
Family meal preparation and time management
The no diet plan- lifestyle and dietary choices
Hormonal health- Supporting female hormonal function
Seasonal healthy meal planning- Thanksgiving & Christmas.
New Years resolutions- sticking to a lifestyle and dietary plan
Tailored topics based on your teams interests.
For bookings and additional questions, please contact us! »
---
Corporate Wellness South Ottawa ON | (613) 260-8828