Jocelito Camargo,
Registered Acupuncturist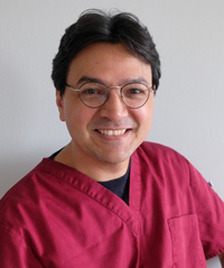 Jocelito Camargo (Joe) is a Registered Acupuncturist in good standing with the College of Traditional Chinese Medicine Practitioners and Acupuncturists of Ontario (CTCMPAO).
He majored in Biomedicine in 2012 and, after understanding the biological mechanism of the human body, he also wanted to understand its energetic mechanisms, when then immersed in the world of Traditional Chinese Medicine, concluding the post-graduation in Acupuncture in Brazil in 2016. In Canada, Joe graduated with Honours from Georgian College's Advanced Diploma in Acupuncture, in December of 2020, in Barrie, Ontario.
He has dedicated additional study and training to learn about using Chinese Medicine in oncology care and neurological diseases.
I do believe that with acupuncture we can offer a better quality of life to patients during cancer treatment or after been affected by a stroke."
Through this experience, he developed a passion for well-being, which comes in many different forms, integrating the best of both western and eastern medicines. Using his various disciplines, he likes to treat not only the disease, but its roots, using the right tool for the right job.
We are pleased to offer Joe's know-how and experience through his services so that you can more than just read or hear about what he does, but actually feel it.
---
Jocelito Camargo | (613) 260-8828