Try this delicious alternative to a whole roasted turkey. Perfect for smaller family and friend gatherings.
1 (2 1/2-pound) skinless turkey breast, butterflied
1/2 cup dried cranberries
2 tablespoons coconut oil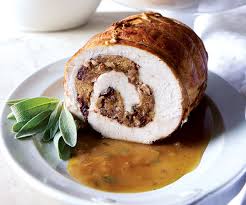 1/2 large onion, diced (about 1 1/2 cups), plus 1 cup sliced onion
2 large garlic cloves, minced
5 slices day-old organic spelt bread, crusts removed, cubed (about 2 1/2 cups)
1/3 cup lightly toasted chopped pecans
2 tablespoons plus 2 teaspoons fresh crumbled sage or 3 teaspoons dried, divided
1 1/2 cups low-sodium organic chicken broth, divided
1/2 teaspoon Himalayan salt
1/4 teaspoon freshly ground black pepper
1 cup apple cider
3 tablespoons apple cider vinegar
1 teaspoon cornstarch dissolved in 1 tablespoon cold water
Directions
Special equipment: kitchen twine
1. Place the turkey breast between 2 sheets of plastic wrap and pound lightly with a meat mallet to an even thickness of about 3/4-inch. Set aside while stuffing is prepared.
2. Preheat the oven to 375 degrees F.
3. Place the cranberries in a small saucepan and cover with water. Bring to a boil, cook for 1 minute, then remove from heat, drain and reserve.
4. Heat 2 teaspoons oil in a large heavy skillet over medium heat. Add the diced onions and cook, stirring, until onions are golden but not charred, about 12 to 15 minutes. Add the garlic and cook an additional 2 to 3 minutes. Add bread, cranberries, pecans, 2 tablespoons fresh or 2 teaspoons dried sage and 1/2 to 3/4-cup chicken stock, depending upon consistency of stuffing; (you want the mixture to be moistened, but not too wet, since the turkey will release moisture when cooked). Cook over low heat for about 2 to 3 minutes, remove from heat.
5. Salt and pepper the inside and outside of the turkey breast. Spread the stuffing on the turkey, leaving about 1 1/2 to 2-inches uncovered on all sides. Roll up and secure tightly with kitchen twine, trying to keep all stuffing intact.
6. Heat 1 tablespoon of coconut oil in a large Dutch oven or medium-sized roasting pan until hot. Sear stuffed turkey breast on all sides until lightly browned, 3 to 4 minutes per side. Add sliced onion and 1 1/2 cups chicken stock, cover tightly and roast in the oven until turkey reaches 160 degrees F when an instant-read thermometer is inserted into inner layer of meat, about 60 to 65 minutes. Remove the turkey breast from oven and transfer to a cutting board to rest.
Make the gravy
1. Add apple cider vinegar, 1/2 cup chicken stock, and remaining sage to the onions, chicken stock and juices in the roasting pan, bring to a boil and cook for approximately 10 minutes, stirring occasionally, until liquid is reduced by 1/3.
2. Slowly add the cornstarch mixture, stirring constantly, and cook for 3 minutes more. The gravy should not be thick, just slightly thicker than a jus. Season with salt and pepper, to taste. Makes 1 1/2 cups gravy.
Remove twine from turkey breast and slice into 1 1/2-inch thick pieces. Serve with gravy.